The High Llamas, Lollo Rosso (remix album, 1998)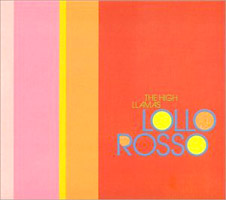 This is the only High Llamas CD that I ever had; it's is a little EP with remixes from Mouse On Mars, Cornelius, Jim O'Rourke, Kid Loco, Schneider TM, and Stock, Hausen & Walkmen all of whom (except the last, I think) seemed to be constantly remixing each other at that point in time with homogenously bouncy results – I feel like I have most of these remixes in several places. The Mouse On Mars sounds like Mouse On Mars, which is still pleasant, Cornelius sounds like Cornelius (some samples he's used elsewhere, I think) and is still nice. The Schneider TM is low-slung and electronic, never really grabbed me. I didn't appreciate Jim O'Rourke (now graduated to the Whitney Biennial) and thought he was boring; this particular remix goes through about six different styles and lasts too long. Kid Loco I used to like; now this seems tasteful if dull, call it trip-hop and be done with it. Stock, Hausen & Waterman were always stupid. And there's a High Llamas remix at the end which is pretty and like the Beach Boys with occasional space noises, but, hmmm, predictably so. It's mostly cute, but . . .
I believe I got this during the year I took off school when I was living in Union Square in Somerville. I had a little room just larger than the size of my bed, which was full of books mostly, as I was, ostensibly, taking the year off to get some reading done, which I did, though I wound up working a great deal too. That door to that apartment was never locked, as far as I remember; can that be right? I do remember that my room had a broken window that I never bothered to fix: at the start of that year, I didn't have any money (why?), and by the time I did, I think, it had warmed up. It was an odd way to live.